You can play games in the playground or other activities, there is a 18 hole mini golf course, a kiosk with souvenirs and gifts, coffee, snacks, light lunches or just wander the gardens and read the inspiring quotes or have a special function here.
It is a Not for Profit Community Care organisation and Charity where individuals or groups are invited to share their creative abilities or help by VOLUNTEERING with the serving, creating, painting, building, weeding, gardening, donating of goods and finances to create a place that families and individuals will love to come to the benefit of our community and Society.
We are very concerned at the number of people who struggle with depression, hopelessness and want to give up on life because of no hope, so we are creating beautiful gardens using everyday things of life to create something visual to convey a deeper meaning of life, composed of artwork set among garden plants and flowers, like Parables. Parables are hidden mysteries within something, and are stories designed to illustrate or teach a truth, and convey a message.
For example a caterpillar goes through drastic changes, it goes through a season of darkness and being entombed in a cocoon to emerge a beautiful butterfly. Don't give up on life when you are in the cocoon stage! Hold on and one day you will fly free!
Learning to develop healthy attitudes in life is one of the keys to true freedom. Life is full of great things that we can learn from which can give us Hope to keep going and not give up.
There is also an old 1945 tram bus in the middle of the gardens. Its the perfect place to come and relax by the Lake, with the birds, the flowers and music with your family or friends and be encouraged and inspired as you do!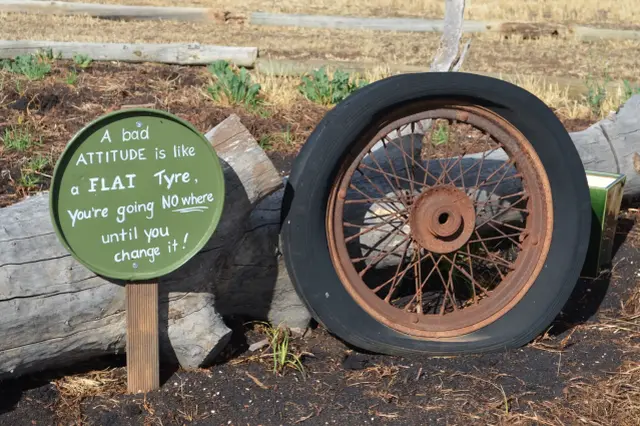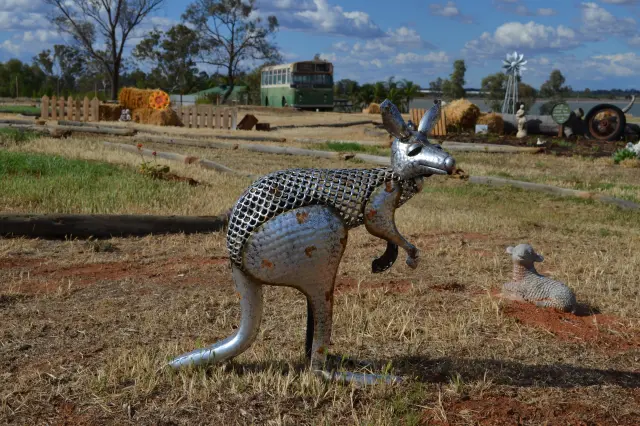 This exciting adventure has the potential to reach far beyond our Sunraysia district and hopefully give HOPE to all who come through these doors.
The property was extremely run down and its taking a lot of tender loving care to bring it to the fullness of the vision – but we have started and are making good progress!
ENTRY FEE is $2 child, $3 adult, or $10 a family (or more for special events)
Booking Fees apply for special functions.
We are available for Birthday Parties, Work Functions, Afternoon/Morning Teas for groups,
Homeschooling groups, Pre-school groups, Youth Groups, Weddings, Funeral Wakes,etc
We also put on special Events including:
Aust. Day Brekkie and Games
Family Fun Days
Easter Egg Games & Hunt
Mothers Day luncheon
Camp Oven Dinners
Fathers Day
High Teas
Carols by Candlelight, etc.
We have a art/craft group that meets every Friday, occasionally we have workshops too. 10am to 4pm
We have a big dream and HOPE that this place will somehow be an inspiration to all who come so that no matter who you are or whatever your situation, step out and dare to do the impossible. Inside every person is something great that needs to be discovered.
God desires that we all have hope and come into our full destiny, for there is always HOPE if we look for it.